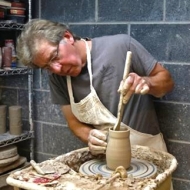 Rutkowsky Pottery Studio and Gallery
I make a wide array of functional and decorative forms. My pots are an extension of my love for the process and medium of clay, slips, and glazes, all of which I have formulated and continue to make from the raw materials. I decorate my unfired ware with slips using trailing, brushing, and fingercombing patterns I have developed over time. Celadon glazes are fired to cone 10 in a reduction atmosphere bringing the layers to the surface for a unified body & glaze layer. The outcome is never 100% predictable, the firing has its way with the pots.
I was introduced to pottery after receiving a BSBA in Economics at the University of Central Florida in 1974 and went on to get an MFA from University of South Carolina in 1979. Throwing pottery puts me in the zone! All is well when I am at the wheel. This 'all natural' yet fairly complex process illustrates the beauty of nature that surrounds us. Pond Branch Pottery began in 1979 when I began full-time pottery making and is now morphing into Rutkowsky Pottery with the addition of my sculptor and potter wife, business partner, and love of my life, Ruth Fischer Rutkowsky.