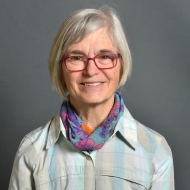 I aim to create relief prints that evoke an emotive response. I begin with a vision inspired by contrasts, textures and shapes observed in birds, animals, plants and landscapes. I love the drama and textures of black and white prints and color makes my heart sing. I carve into plank wood, engrave into end grain wood and occasionally carve linoleum. A sharp tool through wood is most enjoyable to me. A cast iron Showcard Press is what I use for printing.
My mother told me I was always drawing and making things with my hands at an early age. So it was natural that I majored in art. When I graduated from the University of Iowa in 1968 I taught middle school art for 2 years in Tennessee. I met potter, Charles Counts, while teaching and decided to learn pottery from him and began a 2 year apprenticeship. This launched my 40 year pottery career. I worked in a partnership in Maine for a few years, then set up my own pottery studio in western North Carolina in 1974. At that time I switched from stoneware to porcelain for the rest of my career. In 1985 I became a member of the Southern Highland Craft Guild. I sold pottery all over the Eastern United States.
In college my focus was on 2 dimensional art and design. I began collecting relief prints while a potter. In 1997 I made my first woodcut print. I took several relief printing classes at Penland School of Crafts, but it would be 10 years before I switched my focus to relief printmaking and another 3 years before I stopped making pottery to solely work on prints. I've continued advancing my skills with workshops, classes and group projects in wood engraving, Japanese printmaking, paper making, letterpress printing and book making. Presently, I am a member of Asheville Printmakers.