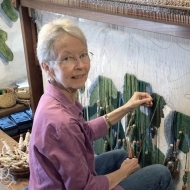 Bittersweet Tapestry Studio
I use the slow medium of tapestry weaving because I love the surface of flat woven tapestry, the intensity of color as interpreted in yarn, and the significance of each movement of the weaver's hands to the finished work. My tapestries are based upon ideas and images that are meaningful to me; the glorious natural world of north Georgia and western North Carolina provides many of those.
Tommye McClure Scanlin has been weaving for over forty years, exploring many different techniques of creating images through the woven structure. In 1988 she began her journey in tapestry weaving and her tapestries have been exhibited nationally and internationally since 1990.
She is Professor Emerita, the University of North Georgia; Fellow of the Hambidge Center for the Creative Arts and the Lillian E. Smith Center for Creative Arts. As a founding member of Tapestry Weavers South, she has been active for many years in both TWS and in the American Tapestry Alliance. She was juried into the Southern Highland Craft Guild in 1979 and made a life member in 2009. She is also an exhibiting member of Piedmont Craftsmen.
Tommye Scanlin teaches workshops throughout the U.S. and in 2018 will be at Arrowmont and John C. Campbell Folk School. 2019 workshops will include Aya Studio in Stuart, Florida.