Forged Bronze Lilly Ginko Leaf Sculpture
Susan Hutchinson
$195.00
This piece is part of A Natural Influence, the Focus Gallery exhibition located inside the Folk Art Center.  On display until November 5th, 2019.
Admission is FREE
1 in stock
Categories: Bedroom/Living, Exhibits, Focus, House & Home, Sculpture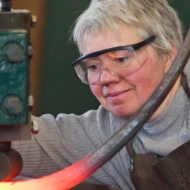 I produce a variety of contemporary, functional items for the home and garden made from metal (mostly wrought iron), and sometimes mixed media. My scale ranges the whole gamut, from tiny hooks to large architectural installations. Large pieces are generally one-of-a-kind commissions for private clients, and smaller pieces are often the result of several years development of a particular theme.
Description
Metal artist Susan Hutchinson is one of the 5 Southern Highland Craft Guild members showcasing their work in the Focus Gallery located upstairs in the Folk Art Center.  The Folk Art Center serves as the headquarters to the Southern Highland Craft Guild. It houses three galleries, a library, a craft shop and the Blue Ridge Parkway information desk and bookstore.
Forged bronze sculpture
Approximately 3/8″ x 8″ x 4″
Shipping cost will be determined and billed at ship time