Harrah's Cherokee Center-Asheville
87 Haywood Rd, Asheville, NC
828-298-7928
Thursday-Saturday, 10am-6pm
Sunday, 10am-5pm
CRAFT FAIR OF THE SOUTHERN HIGHLANDS
Hosted in downtown Asheville at Harrah's Cherokee Center, artisans will fill both the concourse and arena levels of the venue, exhibiting a variety of craft ranging from contemporary to traditional in works of clay, wood, metal, glass, fiber, natural materials, paper, leather, mixed media, and jewelry. Join us for this unique shopping experience and enjoy live music and craft demonstrations during your visit. Please read the latest Covid-19 Policy for Harrah's Cherokee Center-Asheville. 
Thursday - Saturday 10am-6pm, Sunday 10am-5pm
CRAFT FAIR EXHIBITORS - JULY 21-24
Charles Adams
Wendy Allen
Erica Bailey
James Edward Barnes
Travis Berning
Lisa Besler
Darla Beverage
Amy Brandenburg
Tavia Brown
Julie Calhoun-Roepnack
Linda Caristo
Beer Chunhaswasdikul
Ed & Kate Coleman
Andy Costine
Walt Cottingham
Doug Dacey
Alan Daigre
Allen Davis
Rachelle Davis
Larry & Deborah Drake
Lee Entrekin
Gina Eubank
Mark Eubank
Gigi Fasano
Nathan Favors
Lynne Fiorenza
Jim Gentry
Annie Grimes-Williams
John Gunther
Chad Alice Hagen
Deneece Harrell
Jan Havens
Teresa Hays
Harry Hearne
Wren Hendrickson
Neal Howard
Jerry & Linda Hunter
Thomas Irven
Erin Janow
Jason Janow
Cat Jarosz
Ray Jones
Tom Reardon/ Kathleen Doyle
Ilene Kay
Bill Lehnert
Becky Lloyd
Nhia Lo
Vicki Love
Lucy Moore/ Lucy's Toys
Lyn Lyndall
Greg Magruder/ Magruder Glass
Jeff McKinley
Lisa Mergen
Julie Merrill
Steve Miller
Melanie Miller
Marti Mocahbee
Phillip Nolley
Parker Pressnell
Jason Probstein
John Ransmeier
Rex Redd
Colin Richmond
Erica Rollings
Audrey Laine Sawyer
Kelsey Schissel
Arrowmont School
Bonnie Scott
David Scott
Wendy Seaward
Michael Sorge
Sheree Sorrells
Liz Spear
Joe Morris/ Stuart Nye Jewelry
Jude Stuecker
Timothy Sullivan
Howard Thompson
Kim Thompson
Mary Timmer
Sarah Tremaine
Holland Van Gores
Vickie Vipperman
Lisa Banner/ Weaving Room
Tamela Wells
Lyle Wheeler
The Guild's Craft Fair tradition started in 1948 in Gatlinburg, TN on the grounds of Arrowmont School of Arts & Crafts. At this inaugural fair, the Guild connected visitors with the most talented craftsmen and showed the importance of handicrafts in the life of southern Appalachia. 
Today, the Craft Fair of the Southern Highlands is held twice every year (July & October) in downtown Asheville, North Carolina at Harrah's Cherokee Center. It brings together hundreds of makers in what has become a key event for craft. These events are unique in that they offer attendees the opportunity to connect with the artists by purchasing directly from them. In an age of mass production and global imports, the connection to fine American craft and the individual maker is often lost but more significant than ever.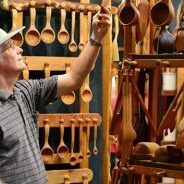 More than two hundred craftspeople fill two floors of the Civic Center twice each year. Local musicians play live on the arena stage; craft educators share their knowledge with adults and children alike through demonstrations and hands-on projects. Eleven thousand visitors from all over the country participate in festivities during the four days of the show. Over the course of the event, nearly a million dollars are invested in the purchase of crafts.
The unprecedented year of 2020 brought the Guild into the new age of virtual events and they successfully hosted their first-ever Virtual Craft Fairs of the Southern Highlands. 
For 92 years, the Southern Highland Craft Guild has curated a group of juried artisans for the purpose of marketing, education, shared resources, and conservation of Appalachian Craft. Our four retail locations in Western North Carolina sell the work of over 800 of our juried members.